Bournemouth protesters camp outside town hall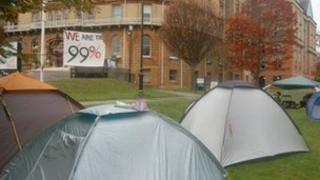 Protesters are camping in nine tents in front of Bournemouth Town Hall as part of an anti-capitalism movement.
The organisers behind Occupy Bournemouth say they sought permission from the council and police before pitching their tents on Saturday.
The council says it supports the right to peaceful protest, but is concerned about the town hall's weddings.
Student protestor Matt, 19, who did not wish to give his full name, said he had had a good response from the public.
He said: "People are coming and going, a lot of people have showed their support.
Wedding venue
"We've been given tents, gazebos, food, blankets and sleeping bags."
Matt said people were protesting for a variety of reasons, including the banking bail-out, NHS reforms and pension reforms.
Protesters say they have been inspired by larger protest events at St Paul's Cathedral in London and at Wall Street in New York.
Bournemouth Conservative councillor John Beesley said: "They are keeping themselves contained, and they are camped on publicly-owned land.
"We are not going to allow them to remain there indefinitely. We asked them not to arrive before 13:00 BST on Saturday because the town hall is used as a wedding venue.
"We will go to any length necessary to make sure people's weddings are not disrupted."
Mr Beesley said if the council failed to persuade the protesters to move on, they could use apply for an order to evict the protest camp.
Judith Geddes, Service Director for Adult and Community Services, said: "We are fully aware of the protest outside the town hall.
"We have met with the organisers of the protest and we are working with the police regarding this event.
"We acknowledge local people have the right to protest and to have their views heard."