Dorset farmers warned of arson threat to barns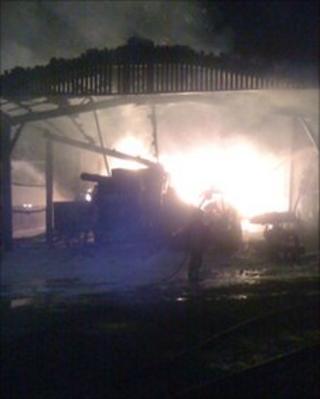 Farmers are being warned to keep an eye out for arsonists after a rise in the number of barn fires in Dorset.
There were 16 barn fires between 1 April and 18 October, compared to six during the same time period last year.
Dorset Fire and Rescue Service recommended installing security lights and urged farmers to regularly check their remote outbuildings.
Anyone with information, or who sees something suspicious, is asked to contact Dorset Police.
Alun Morgan, of Dorset Fire and Rescue Service, said: "We are asking farmers and farm workers to keep a close eye out for anything suspicious, especially unusual activity like parked cars or strangers.
"There is often a pattern leading up to a barn fire, for example small burns in the local area which may have burnt out without the fire service being called."
More than 40 firefighters were called to tackle a large blaze at a barn near Charminster on Wednesday 14 September. About 100 tonnes of hay and farm machinery were destroyed and nearby homes had to be evacuated.