Dorset seeking travellers' sites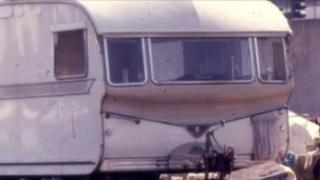 They are high on the government's agenda and firmly in the public eye, following the clearance of Dale Farm in Essex.
Now the subject of Gypsy and traveller sites is causing controversy in Dorset.
There are currently five permanent legal traveller encampments in the county while about 100 locations are being looked at as potential sites.
However, councillors and local residents feel many of the proposed locations are unsuitable.
Joseph P Jones, spokesman for the Gypsy Council, said members of the travelling community had been part of society for hundreds of years.
He added: "I can't understand why there is so much opposition, we belong here - we're not new arrivals."
Proposals rejected
Dorset County Council said there are between seven and 20 unauthorised traveller encampments in the county every day.
The Great Dorset Steam Fair, in Tarrant Hinton, Blandford, has housed a successful travellers' site since 2004.
The site, which has been approved for the next five years, is about half a mile from the showground.
It has 100 pitches and opens for three weeks around the dates of the event.
The county council said the number of illegal encampments fell from 19 to 11 when the five-day fair in August and September was held.
Martin Oliver, the fair's organiser, said he hoped that some new sites could be built.
He said: "It's not an easy situation. The county has got a problem in finding suitable sites.
"No one wants one in their back yard."
So far three possible authorised sites for Poole have been rejected by councillors.
A dozen sites in west Dorset, including two at Beaminster and one in Bridport, have also been proposed.
And four sites have been earmarked for Bournemouth at Park Road and on greenbelt land on Muscliffe Lane, Careys Road and Throop Road.
Residents gathered a petition against the proposed traveller site at Park Road, Lansdowne.
Alex De Freitas, who organised the petition, said: "Bournemouth already has a night time drinking problem.
"What we don't want is to damage the reputation of Bournemouth as a family resort by placing sites in unsuitable locations.
"We are not anti Gypsies or anti-travellers and we respect their human rights."
Dorset Gypsy Basil Burton, 89, who leads the the National Romany Rights Association, has branded the petition "nonsense and derogatory".
He said: "Had I known in 1942 that my people would be treated like this I would have been a conscientious objector.
"I fought in the war for these people, and this is how they treat us."
Mr Jones, from the Gypsy Council, also rejected Ms Defreitas's claims, saying many travellers did not drink and had close family ties.
He added: "To regard a traveller site as damaging makes about as much sense as saying a mosque in a particular area is damaging."
Ongoing problems
Consultants Baker Associates have been working for three years on finding traveller sites across Dorset.
Dave Ayre, head of Gypsy and traveller services at Dorset County Council, said it was too early to say whether any of the proposed encampments would make it past the planning stages.
"This is part of a three-year process," he said.
"Campaigning for or against a site is a fundamental part of the planning process and that's fine.
"But there are not enough sites to meet the needs of travellers and that causes clear ongoing problems."
Ch Insp Nick Maton, of Dorset Police, said: "If we have an unauthorised encampment with no suitable alternative site to direct them to, we're in a position of either having to tolerate the site or to give them direction to leave, which purely moves the problem down the road."
The 12 week public consultation on all proposed Dorset sites begins on 18 November.