Records reveal lives of Dorset's smugglers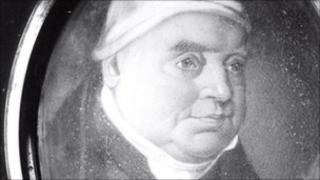 The lives of Dorset's infamous smugglers have been brought to life by parish records published online for the first time.
The collection of 1.5 million baptisms, marriages and burials feature on the family history website Ancestry.co.uk.
They document the period in Dorset between 1511 and 1997.
The website said the documents show that smuggling was rife along the Dorset coast between 1714 and 1830.
Roger Guttridge, author of Dorset Smugglers, said: "Almost everyone in the coastal towns and villages of Dorset would know someone involved in smuggling.
"About 80,000 gallons of brandy came ashore from Bournemouth beach each year according to a report from custom house in 1804, with 40,000 gallons being landed in Purbeck annually."
'Incalculable worth'
Goods were brought on sailing ships before kegs were manhandled up sheer cliffs and then transported inland by wagons.
Mr Guttridge said: "There'd be up to 300 in a gang with 30 fully-loaded wagons travelling in convoy inland from the coast. They'd disappear in the New Forest then the goods would be taken to London, Bristol and even the Midlands.
"To work out how much smuggling was worth in Dorset is incalculable but by modern standards it was worth millions. In 1784 the government estimated more than two thirds of all spirits and tea consumed were contraband."
Smugglers featured in the online records include Isaac Gulliver, who was known as the "king of smugglers".
Mr Guttridge said Gulliver came from a working class background and managed to rise to a position of "wealth and respectability" as a church warden and owned a fleet of ships and properties.
"He famously faked his own death when excise men came looking for him at his home in Kinson," Mr Guttridge said.
"He chalked his face and got into a coffin as his wife went to the door in a mournful state. She told them her husband had passed away and invited them to pay their last respects which they did, and satisfied he had died, left."
Another smuggler documented in the records is Roger Ridout, believed to have been one of Gulliver's men who specialised in "bringing-in" brandy.
Mr Guttridge, a descendant of the Ridout's, said: "They would smuggle alcohol, mostly brandy, but also gin and rum, as well as tobacco, tea, salt and silks, from Bournemouth beach and Purbeck on a cavalcade of 12 horses, led by armed men. They'd store contraband at farm buildings in Fiddleford Mill about two miles away."
Records show William Lewis was shot dead by customs men on board his ship the Active in 1822 as he followed their orders to lower the ships sails.
At the inquest into his death the jury concluded he had been murdered and that the shot had been "wantonly and maliciously fired".
'Barbarously Murder'd'
Robert Trotman was also shot dead by customs men while loading tea on to horses on the sands at Poole in 1765.
His gravestone in Kinson claims he was "barbarously Murder'd" and that "A little Tea one leaf I did not steal, for Guiltless Blood shed I to GOD appeal, put Tea in one scale human Blood in tother, and think what tis to slay thy harmles Brother [sic]".
The words on Trotman's grave are evidence that, despite modern villainous connotations, smugglers of the era were often considered heroes.
The 18th Century smuggling boom was a direct result of punitive taxes imposed by the government to fund expensive wars in Europe.
Jacqui Halewood, principal archivist at Dorset History Centre, said: "Information on local characters and worthies from the nobility to paupers including those with a colourful life story such as smugglers can now be more easily accessed by family, local and social historians."