Boscombe surf reef attracts '100 species'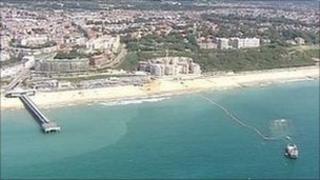 A controversial surf reef off Dorset has attracted more than 100 species, scientists have found.
The £3.2m underwater reef at Boscombe opened in 2009 but has been criticised and is currently closed while repairs and improvements are made.
Researchers at Bournemouth University found the structure has attracted species including algae, molluscs, crustaceans and fish.
The university is studying the reef's biological impact.
Public exhibition
The structure was created to enhance waves using 55 giant sand-filled bags, which are 740ft (225m) out at sea.
ASR Ltd, the firm which built the reef, returned in August to carry out further work but it is unlikely to be finished by the end of the year as the weather deteriorates.
The council has not confirmed whether it has paid New Zealand-based ASR Ltd any of the £150,000 it was withholding until the work was completed.
Bournemouth University has been studying what has developed on the reef since it was installed.
It is hosting an exhibition on its work during a two-day free public event near the reef on 25 and 26 October.