Sandbanks tree damage developers guilty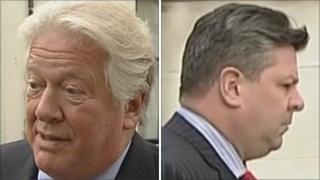 Two developers have been found guilty of damaging trees which were blocking plans for three luxury homes worth £11m in Dorset.
Alistair Collier, 41, and Harvey Lee, 66, wanted to build the homes on land in the exclusive Sandbanks area.
They were found guilty of permitting or causing the destruction of five trees after the plans were blocked in 2010.
Collier, from Wareham, and Lee, from Poole, will be sentenced at Bournemouth Crown Court next month.
Lee, speaking after the hearing, said he would appeal against the verdict.
He added: "I respect the law.
"But unfortunately we know better than judges... simply because we know what we did and what we didn't do and in this case we did nothing."
The court heard the pair paid £4.5m for the land in Banks Road with the intention of building three homes worth a total of £11.2m.
Most expensive
But an outline application in 2010 was refused because one of the homes would have stood too close to the trees.
A few weeks later the trees had been targeted, Bournemouth magistrates heard.
The technique, known as "ring barking" involves slicing into a tree with a saw and removing part of the bark at the bottom of the trunk which eventually causes it to die.
The prosecution by Poole Borough Council said specific trees, with Tree Protection Orders, had been targeted and the damage had been inflicted by someone who knew what they were doing technically.
Russ Fisher, arboriculture officer at Poole council, said: "I think if it was a haphazard job it would look haphazard.
"But this did have clinical precision which demonstrated it was a professional job."
Residents claim the issue is a continuing problem in the area.
Property in Sandbanks is among the most expensive in England.
In May, figures from the Halifax showed the average price of a house was £532,652.