Dorset school buses left pupils 'stranded at stops'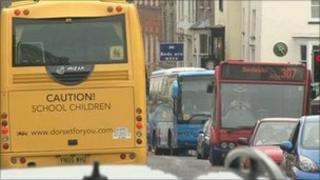 Children being stranded at bus stops is among a series of problems which followed changes to Dorset's school bus services, a report has revealed.
More than 100 complaints were received by Dorset Passenger Transport in September when most school bus routes were taken over by Damory Coaches.
A preliminary council report found problems included late or no services and drivers not having security checks.
The company said it had not received adequate information from the council.
'Safeguarding issues'
When the new services started running, the council admitted there were "teething problems".
Conservative-run Dorset County Council awarded a number of new contracts for the home to school service in May 2011 with Damory Coaches chosen to operate the majority of routes.
The subsequent investigation found there were "significant safeguarding issues" including a four-year-old child left under the care of two nine-year-olds and children being dropped off on a busy road away from their parents.
It said that insufficient numbers of staff from outgoing contractors transferred to Damory Coaches, which did not have enough time to recruit more staff.
Drivers were drafted in at short notice who were not familiar with the routes, the report said.
It also found a number of drivers used did not have local Criminal Records Bureau (CRB) clearance.
Prices rose
In its contribution to the investigation, Damory Coaches stated it had not been given maps marked with locations of the bus stops.
The company also said the council had not provided a passenger list, making it impossible for drivers to identify who should be getting on their bus, which contributed to overcrowding.
As part of the revision to school bus services, which the report said saved the council £500,000, ticket prices rose from £250 to £400 and the number of spaces was cut from 2,000 to 1,000.
The preliminary findings will be discussed by Dorset County Council's Audit and Scrutiny Committee on 20 October and the full report is due in November.