Majority of Dorset school patrols 'set to be saved'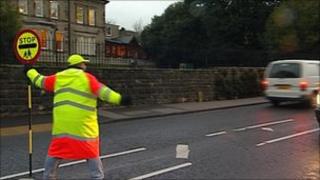 The majority of crossing patrols for schools in Dorset look set to be saved from the axe.
Dorset County Council proposed cutting the £200,000 a year in salaries it currently pays for the service as it looks to save £31.1m in 2011/12.
It would have meant schools paying for the service or inviting volunteers.
But in a report to be considered by councillors next Wednesday, it is recommended that 50 out of the 63 patrols should be saved.
The report said these crossings met "nationally agreed criteria" and should be maintained.
That would see patrols kept where there are no, or few, other safety measures such as pelican crossings or pedestrian lights.
'Unreasonable proposal'
Protests were held when the Conservative-led council, which said it has no legal obligation to fund the patrols, first announced the plan in December last year.
Helen Toft, from Weymouth, is a parent and has campaigned to keep the lollipop patrols.
She said: "I was very pleased when I read the report, but I'm not counting my chickens until next week.
"It's been a very long fight. When it was announced I thought it would just take a few articles in the local paper and a bit of letter writing - it was such an unreasonable proposal.
"I hope this will benefit lollipop people across the country.
"If the local authority, to make cuts, are making a decision that endangers children, then surely the government should have a little more power to nudge them in the right direction.
"I'm hoping that a Parliamentary debate will help the service in the long term."
The council cabinet is due to make a decision next Wednesday.