Elderly woman flees Dorset bungalow fire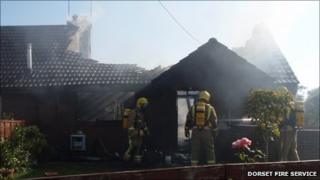 An elderly woman managed to escape when a fire ripped through her bungalow in Dorset.
Neighbours raised the alarm after seeing smoke pouring from the windows of the property in Butts Close, Winfrith, at about 14:00 BST.
The woman was treated by an ambulance crew after fleeing her home. The property, which did not have a smoke detector, was completely destroyed.
The cause of the fire is under investigation, the fire service said.
Group manager Alun Morgan said: "Had there been a working smoke alarm in the property this would have given an early warning to the occupier and neighbours.
"We urge all householders in Dorset to have a working smoke alarm on all levels of their home, and ensure they are tested weekly."