Red Arrows pilot Jon Egging memorial for Bournemouth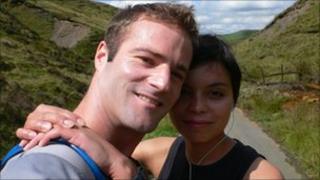 A permanent memorial is to be created in Bournemouth for a Red Arrows pilot who died after an airshow display.
Flt Lt Jon Egging, 33, from Rutland, died when his Hawk T1 aircraft crashed into a field at the village of Throop, near Bournemouth Airport, on 20 August.
Council leader Peter Charon said he had met Flt Lt Egging's wife Emma, mother and close friend to discuss the plans.
He said the memorial would be created at East Cliff and there were also plans for an annual charity gala.
The design of the memorial will be decided by Flt Lt Egging's family and the council is planning to have it in place by next year's air festival.
Design competition
Mr Charon said: "We will provide a permanent memorial on the East Cliff, close to where the Red Arrows actually fly in the festival, and that will be the main focal point for the memorial.
"We will take that out to a competition locally - the family were very keen on that to try and get some design ideas.
"It will be the family who decides on the final format and how it looks.
"They were also very keen [on], and we support, an annual gala in memory of Jon Egging because they very recently set up a charitable trust and we will assist with fundraising for the trust."
He said about £8,500 had already been raised in the town in donations and through auctioning a sculpture of a lion which became a floral tribute point following the crash.
The Jon Egging Trust has been set up by Dr Emma Egging to give disadvantaged young people opportunities to help them achieve their potential.
Flt Lt Egging grew up in Southam, Warwickshire.