National Trust renovates Portland House, Weymouth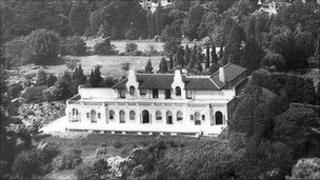 The National Trust has renovated a luxurious west Dorset holiday home built in the 1930s.
The charity describes Portland House in Weymouth as a rare "Hollywood Spanish" style of building left in the UK.
Helen Mann, a property manager at the National Trust, said: "We want people to be able to relive the 1930s holiday experience."
The house looks over Portland Harbour where Olympic sailing events are to take place in Weymouth Bay in 2012.
It was built in 1935 by the architect Lord Gerald Wellesley, who later became the 7th Duke of Wellington.
It was damaged by bombing in World War II and then donated to the Trust in the 1970s.
The Twentieth Century Society writes on its website that the Grade II listed building "brilliantly reflects popular imagery of the day: a combination of the glamour of cinema with the exoticism of the sunshine holiday.
"The Hollywood Spanish style was popular in England in the interwar years and we believe that Portland House is the best example seen to date."