Red Arrows crash: 'Souvenir hunter in eBay sale claim'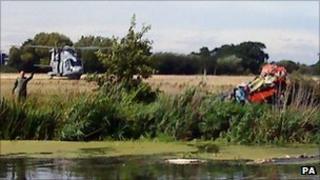 A man who witnessed "souvenir hunters" on the site of a Red Arrows jet crash which killed the pilot says one man intended to put wreckage on eBay.
Flt Lt Jon Egging, 33, from Rutland, died when his Hawk T1 aircraft crashed into a field in the village of Throop, near Bournemouth Airport, on 20 August.
Local businessman Steven Young saw about a dozen people on the Malmesbury Estate, where the plane came down.
Dorset Police are investigating two reports of people collecting debris.
'Fuel injector'
Mr Young, who was walking his dogs in the area, said: "It's a private area which you shouldn't be in.
"I assumed they were investigators just scouring the ground.
"As I approached with the dogs a lot of people disappeared and I saw one gentleman scurry off into the distance with a metal detector.
"Another gentleman had an item of wreckage about 12 to 18 inches long and five to six inches wide, what looked like a fuel injector and a bit of glass.
"He made a comment about putting them on eBay."
The force warned that anyone found to be taking debris from the RAF aircraft would be committing theft.
An inquest into Flt Lt Egging's death has been opened and adjourned in Bournemouth.
Aircraft grounded
A post-mortem examination showed the cause of death was multiple injuries.
Coroner Sheriff Payne said it was unlikely a full inquest would be held for up to 12 months.
All Hawk T1 aircraft were grounded after the crash, but the restriction has now been lifted and the incident is being investigated by the Military Aviation Authority.
The Red Arrows have used the dual control BAE Systems Hawk T1 aircraft since 1979.