Dorset solar farm 'will power 100 homes'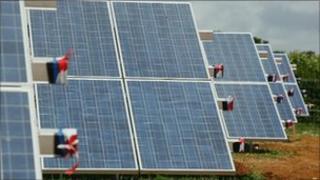 A solar power station large enough to supply electricity to 100 homes has been officially opened in Dorset.
The 1,100 ground-mounted solar panels at Slepe Farm, off the A35 near Poole, are expected to generate more than 500,000 kWh of electricity a year.
The facility, run by renewable energy firm Farm Power, will be among the last to qualify for higher rate government subsidies for generating power.
The subsidy agreements, called feed-in tariffs, are due to be cut in October.
Farm Power managing director Mark Simon said: "There is much talk about the need for the UK to build renewable electricity generation.
"Farm Power is acting quickly to implement solar and other renewable generation capacity in otherwise redundant sites, close to users, where the electricity can be efficiently and non-disruptively generated."
The opening ceremony was conducted by HM Lord-Lieutenant of Dorset Mrs Anthony Pitt-Rivers.
Solar power stations can currently earn 30.7p per kWh of electricity fed into the National Grid but, after subsidies are cut, new projects will earn a much lower rate.