Hobby chicks thrive despite Upton Heath fire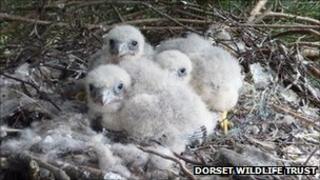 Two birds of prey which survived a huge heath fire in Dorset have successfully raised three chicks.
Dorset Wildlife Trust said an "entire eco-system was destroyed" when fire swept through Upton Heath in June.
The heath fire, the largest in the county for 35 years, missed a nesting site used by a pair of hobbies.
The charity has released images of the three chicks, which hatched in mid July. The birds have been ringed to help with future monitoring.
Conservationists said the hobbies, which first nested in the area in 2010 in an artificial nest basket, returned in May, making their home in an abandoned crows' nest.
In June a third of the heath was devastated when fire spread rapidly over one sq km (247 acres).
The fire is thought to have been started maliciously.
A trust spokesman said, despite the fire, there were still good numbers of dragonflies, which are eaten by hobbies, in the boggy areas of the heath.