Red Arrows pilot memorial plans considered in Dorset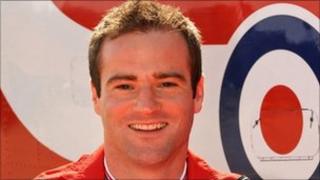 Plans for a memorial for a Red Arrows pilot who died after a display at Bournemouth Air Festival are being considered, according to the council.
Flt Lt Jon Egging, 33, from Rutland, died when his Hawk T1 aircraft crashed into a field at the village of Throop near Bournemouth Airport on Saturday.
About 3,600 people have so far signed the books of condolence at Bournemouth Town Hall.
The number of books for public tributes was increased to six on Sunday.
Lion statue
The council said there had been requests for a permanent memorial from the town's residents.
Hundreds of floral tributes have already been laid outside the town hall beneath a painted sculpture of a lion which depicts the Red Arrows in flight above Bournemouth Pier.
The statue is one of 50 decorative lions in the town centre as part of the Pride in Bournemouth art event, organised by Wild In Art, which runs until September.
Local artist Carol Childs designed the It's Got To Be Bournemouth lion which stands in front of the town hall.
Some people have suggested this should be made the permanent tribute to Flt Lt Egging.
Charlie Langhorne, Director of Wild in Art, said: "We hope that Flt Lt Egging's widow finds some small bit of comfort when looking at the flowers and tributes laid at the foot of our lion.
"We are very happy to work with Bournemouth Borough Council to see how the lions can either be a fitting memorial or contribute towards a memorial that celebrates the pride we all feel for the Red Arrows pilots and crew."
Pam Donnellan, Chief Executive of Bournemouth Borough Council, said: "When the time is right, we will be talking to Flt Lt Egging's family, and in particular his wife Emma, the RAF and other appropriate organisations.
"Their wishes will be the driver for any decisions that we make."
An inquest into Flt Lt Egging's death has been opened and adjourned in Bournemouth.
The council said it would hand the books of condolence to Flt Lt Egging's family, along with any donations given by members of the public for the family's chosen charity.
And the council asked anyone wishing to leave floral tributes to place them on the grass banks around the town hall.