Clean-up takes place after Dorset flash floods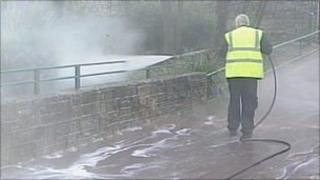 A clean-up operation has taken place in parts of Dorset after flash floods on Thursday left many areas submerged.
Bournemouth was among the worst affected areas where water was waist-deep in places. The opening day of a four-day air show there was cancelled.
The RNLI has put up red flags advising people to stay out of the sea amid fears of sewage in the water.
These are expected remain in place over the weekend as a precautionary measure, the council said.
The Environment Agency issued a flood alert for the tributaries of the River Avon between Christchurch and Ringwood.
It said water levels in the rivers remained high on Friday but were gradually falling.
The Met Office has issued a yellow weather alert for heavy and thundery showers on Monday, moving across the Channel from France. A spokeswoman said these had the potential to cause similar problems.
Beach closed
The RNLI said red flags were in place at beaches between Southbourne and Alum Chine. People can still use the beaches but have been advised not to bathe there.
About 100m (330ft) of beach west of Boscombe Pier remains closed to the public.
Poole beaches, from Branksome Chine to Sandbanks, are unaffected.
Bournemouth's Central Gardens had to be disinfected after drains, unable to cope with the volume of water, overflowed in the town centre.
The borough council's environmental heath department issued "precautionary advice" for people not to go on to the grass in the gardens or to bathe in the sea or stream water until Monday.
A spokesman said: "Public areas have been cleansed and we will continue to do so to ensure these areas are safe for the public.
"In the meantime, members of the public are advised to continue taking normal precautions such as washing hands before eating or preparing food."
Bournemouth Crematorium was forced to close due to electrical faults and dozens of funerals had to be postponed or relocated. It is expected to reopen on Monday.
Organisers of the Bournemouth Air Festival said air displays were expected to go ahead as planned for the remainder of the weekend.
'Horrendous conditions'
The Russell-Cotes Museum on Bournemouth's seafront reopened at 10:00 BST. Museum staff spent a frantic few hours on Thursday moving artworks and furniture out of harm's way as water cascaded down walls.
Mayor of Bournemouth Councillor Chris Rochester paid tribute to staff, saying: "I should like to take the opportunity to pass on my heartfelt thanks to everyone for pulling together yesterday in exceptional circumstances to help the hundreds of people affected by the flash floods.
"All worked tirelessly in horrendous conditions to make the roads, pathways, gardens and seafront safe and usable.
"It was not the start to the Air Festival that we envisaged, but I am sure that the remaining three days of displays and activities will prove it is worth the wait."
At the height of the flooding between 10:30 BST and 12:30 BST, residents reported drains lifting up and water rising almost to the height of car bonnets.
Dorset Fire and Rescue Service said it had responded to more than 100 incidents during that time.
In Exeter Road, Bournemouth, buildings were evacuated and the road closed after a wall collapsed, rupturing a gas pipe.
The Met Office said 57.8mm (2.3in) of rain fell in Portland between 04:00 BST and 13:00 BST.
Bournemouth Borough Council said it had taken nearly 1,000 calls at its call centre, with 98% being flood-related.