Victorian gunpowder found near Dorset rail tracks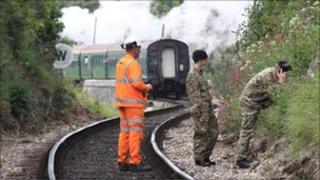 An unexploded Victorian gunpowder blasting charge has been found near rail tracks in Dorset.
The charge, thought to be 126 years old, was found at Corfe Castle by a railway maintenance worker on Thursday.
It is thought to date from 1884 when railway navvies were constructing a cutting through the chalk rock of the Challow Hill of the Purbeck Hills.
The unexploded charge was made safe by a team of Army bomb disposal experts who removed it from the scene.
Measuring 3in (7.6cm) wide and 1in (2.5cm) deep, the charge was discovered in the chalk rock by a member of the Swanage Railway's track maintenance gang.
Reduced speed
Officers from Dorset Police examined the Victorian relic before calling in an expert Army bomb disposal team from Tidworth, Wiltshire.
Police and the bomb disposal team decided it was safe to allow passenger trains to pass through every 40 minutes at a reduced speed 5mph.
The team made the charge safe at 15:20 BST after a 90-minute operation.
Swanage Railway infrastructure manager Alistair Hall said: "It's really incredible and amazing the unexploded Victorian gunpowder blasting charge has been in the side of the railway cutting for 126 years without anyone noticing."
Mr Hall said that since the opening of the branch line in 1885 and the end of the British Rail line in 1972 - when the tracks were torn up for scrap - hundreds of thousands of trains had travelled past the spot where the explosives were found.
He added: "Throughout all those years, nobody noticed the Victorian explosive charge - perhaps people thought it was a rock blemish or a fossil or it could have been covered by wild plants."
The late 19th century railway cutting was part of the two-year, £77,000 construction of the 10-mile branch line from Wareham to Corfe Castle and Swanage by the business entrepreneurs of the Victorian Swanage Railway Company.