Dorset's Lulworth Castle ready for Camp Bestival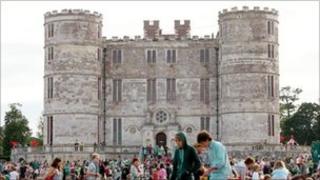 Up to 30,000 people are expected to attend the fourth Camp Bestival music and arts festival in Dorset this weekend.
Preparations are well under way for the four-day event, at Lulworth Castle near the village of East Lulworth, which begins on Friday 29 July.
For castle and estate manager Paul Pinnock, minimising local disruption is crucial to its success.
He said: "We are mindful of people living nearby - the impact is huge."
He compared it to creating a community five times the size of the nearest town, Wareham.
"And they all need to eat, sleep, go to loo and be safe," he said. "The logistics are amazing."
Traffic congestion
But he said the most important thing was the license for the event, provided by Purbeck District Council.
Last year it granted a five-year license but parts of it can be altered each year. For example, cars will be allowed on site a day earlier this year to help ease traffic congestion.
For Lulworth Castle, which is run as a tourist attraction, Camp Bestival is its single biggest event.
Although it attracts many people for the duration of the festival, Mr Pinnock said many are tourists already in the area who visit the festival as part of a longer holiday.
He said: "Lots of people have their week's holiday, have a day on the beach, camp at Durdle Door, then come to Camp Bestival."
Debbie Best, whose family runs a campsite nearby at East Creech Farm, is largely unaffected by the festival.
She said: "We've had a few people who come for the festival but most of our customers would only pop along for a day. Those that camp, camp on site. I've heard no complaints."
Portable toilets
Mr Pinnock has spent a day checking the grass of the 220-acre (89 hectare) site and said it needed to be cut shorter than usual to allow for the heavier footfall.
He has also overseen the removal of fencing and the laying of trackway to improve truck access, as well as the arrival of numerous portable toilets.
But he said one of the most crucial elements is keeping local people happy.
He said: "I can tell you, [local people] are comfortable now, but when it first started there was concern because people didn't appreciate the nature of the event - Camp Bestival is very much for the family."
He acknowledged that road traffic was probably the biggest issue for residents, but said specific plans are put in place to cope with it, such as one-way routes and a curfew for production vehicles.
Mr Pinnock said: "Myself, the Camp Bestival team, all have these 'what if' meetings with the parish council, police, fire and rescue, health and safety, traffic managers.
"We go through everything and make sure everyone is happy - that's the bit the public don't see."
Camp Bestival founder Rob Da Bank has said that despite its success - the festival has won best family festival titles from 2008 to 2010 - it will not get any bigger.
He said: "As soon as things start to get too big that's when it can start to go haywire. We're comfortable with 30,000 people on site."