Bishop of Sherborne sees 'jubilant' birth of South Sudan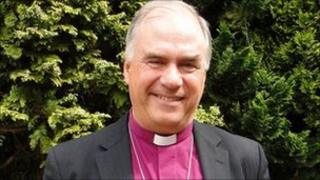 A Dorset bishop who was invited to South Sudan to see the country celebrate its independence said it was a "jubilant" occasion.
The Diocese of Salisbury has had links with the region for 39 years and has sent several figures to the region.
Bishop of Sherborne, Dr Graham Kings, said it was important to show support for the new nation.
During the trip he also spoke to religious leaders about the drought in the Horn of Africa.
He has backed an international aid effort.
The Disasters Emergency Committee said £6m was donated by the British public following a television appeal shown in Friday.
Dr Kings said: "It is tragic and it is worth raising the alarm now and raising money now to help them rather than wait for the famine to happen.
Civil war
"They are terribly worried about it, they want to put their weight behind an international effort to raise money."
The bishop was speaking from Juba, the capital of South Sudan.
He was invited by Archbishop Daniel Deng Bul of the Episcopal Church of Sudan to participate in the celebrations of independence after years of civil war.
He said: "It began as the biggest street party I have ever been part of on Friday night.
"As we came to midnight there was a service at the cathedral, there was jubilation.
"We even had some water thrown on us so we were sort of baptised at the birth of a nation, it was phenomenal."
He added: "We are interconnected in the worldwide church and the Diocese of Salisbury has been linked with the Episcopal Church of Sudan for 39 years.
"Throughout the civil war the bishops would come out and take the risks that other people were taking here and join in with them."