Dorset Police helicopter sharing fears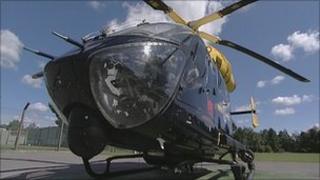 Plans to share Dorset's police helicopter in a bid to save £1m per year have raised concerns.
The force is looking to share its helicopter with neighbouring counties in a new national scheme.
Clive Chamberlain, Dorset Police Federation, said: "It's a vast county. To cut back could put lives at risk."
Dorset Police insists being part of the new service across England and Wales will provide the same air cover at half the cost.
The current Dorset helicopter currently attends about 1,000 incidents each year, and costs about £2m to run.
'Good feedback'
The plan to create the National Police Air Service will reduce the number of police helicopters across England and Wales from 33 to 23.
Chief Constable Martin Baker said: "We're not abandoning anything in operational terms.
"We can share a national air capability at under half the cost."
As part of cost-saving measures, the force has to make £18m of cuts in four years.
Sgt Ian Wood, from the Dorset Police Air Support Unit, said: "We are all aware times are tough in policing - when all is said and done, we do save lives with casualty evacuations and missing persons.
"Without it there are going to be prices to pay."
Police forces in Surrey, Sussex and Hampshire began sharing two helicopters in April instead of using three separate aircraft.
Hampshire Chief Constable Alex Marshall, who is co-ordinating the national initiative, insists careful planning and placing of helicopters is making better use of the airborne resources.
He said: "All cuts come with risk but on this occasion I don't think there'll be any reduction in service at all, there'll be a reduction in cost."
Hampshire Police Federation echoed the chief constable's views on collaboration between forces.
Chairman John Apter said: "Since the collaboration, we've actually had some very good feedback from our members. I would try and reassure my friends in Dorset that we have seen an increase in air support."
More on the issue of police helicopters can be seen on The Politics Show on BBC One in the South.