'Small recovery signs' on burnt Upton Heath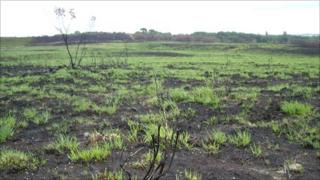 A month on from Dorset's largest heath fire for 35 years and some small recovery is beginning, says Dorset Wildlife Trust.
Areas of the scorched heathland at Upton, Poole, have patches of grass appearing.
Nicky Hoar from the DWT said: "It's a sign of life but it's not what we're after. It needs to be managed so the gorse and heather can re-grow."
The trust said a third of the heath had been devastated by the fire in June.
But the full recovery of the land could still take another 10 years, while the wildlife may not recover for a further 15.
Datford warblers
Steve Davis, also from the DWT, said: "We always expected to see the grass first and it provides some cover for any wildlife there - creatures can start to move around as they look for new territories.
"But we're not seeing any wildlife on the damaged areas yet but what we do have is an apparent concentration on the parts of the heath that were unaffected by the fire.
"We're seeing Nightjars, Stone chats and also Dartford warblers, who are probably nesting on the unburned sections, but going onto the damaged parts to feed on insects.
"The number of spiders crawling about there now is amazing."
'Bowled over'
In the immediate aftermath of the fire, volunteer manager Mr Davis said he was "inundated" with offers of help from people, both locally and from across the country.
He said: "I was absolutely bowled over by the response, and 260 volunteers were able to rescue 560 reptiles, who were moved to areas of the heath unaffected by the fire.
"It's likely that tens of thousands of reptiles perished in the fire, but being able to save those is at least something."
The rescue exercise was called off after nine days as the chances of finding wildlife still alive after the fire became unlikely, he said.
As well as a fundraising campaign, the trust is now planning a 'neighbourhood watch' style project, where people who use the heath can keep a look out for suspicious activity and report it.
Mr Davis said: "There's still this massive feeling of wanting to help so we're giving people a way to do that and also a way to help protect the heath."