Bournemouth pride parade award is tribute to organiser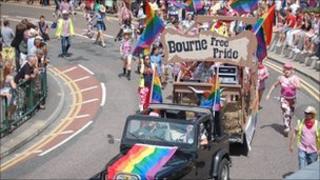 A gay pride parade in a Dorset town is to commemorate a member of its organising team who died last year.
Steve Collier, who died from cancer last November aged 47, was one of the trustees of the annual Bourne Free Pride event in Bournemouth.
A seafront parade on Saturday 10 July will feature a special award in his name for the "best dressed" entry.
Event chairman Peter Lovegrove said: "The parade was very much his baby, and it's a way to keep his name alive."
"Incredibly emotional"
Mr Collier, who was originally from Dorchester, was part of a small team of volunteers who organise the weekend-long event.
Mr Lovegrove said: "We will all have Steve in our thoughts. I think it's going to be incredibly emotional for the organisers and his friends and family."
Bourne Free has been run as a charity since it began eight years ago as a protest against a far-right organisation which said it was planning to visit Bournemouth to preach against homosexuality.
He said: "Pride has always been about celebrating and being comfortable with who you are, and it's not just about gay people - we strive to be inclusive and everyone is welcome."
Organisers say up to 5,500 people could attend during the three day-long event, which is due to begin on Friday 8 July.