Weymouth Olympic sailing observation tower feedback 'positive'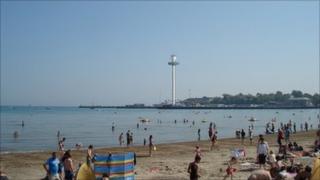 The company behind plans for a £3m viewing tower at Weymouth seafront said feedback had been "very positive".
Merlin Entertainments wants to open the 173ft (53m) structure in time for the 2012 Olympic sailing events being hosted in the town and Portland.
A number of residents have lodged objections with the council, with several claiming it will damage views.
But the firm has vowed to address their concerns and said it was encouraged by a recent public exhibition.
It said almost 250 people visited over two days with more than 100 filling in a feedback form with 87% of these feeling "very positive" about the scheme.
Up to 50 visitors at a time would be allowed to the top of the Festival Pier attraction.
'Sore thumb'
Merlin Entertainments said many people felt the structure would improve the area and boost the reputation of Weymouth.
But it admitted others raised concerns on issues including, pricing, parking, flooding and the tower's design.
The council has so far received 11 letters of objection and three letters of support with the consultation due to end on Wednesday.
Resident Brenda Pickett said: "This hugely tall structure would, I feel, stand out like a sore thumb.
"It would irreparably damage some of the finest views, including the beautiful panorama of Weymouth Bay."
Merlin Entertainments, which is behind the Sea Life attraction in Weymouth and the London Eye, said it believed the structure "works well alongside other existing buildings".
It also said it intended to work with Weymouth council and other parties to encourage visitors to use park and ride services to minimise traffic disruption.
Sally Ann Wilkinson, managing partner, said: "We understand that there will be some residents who would prefer Weymouth to remain unchanged, and to whom no plan of this sort would be acceptable.
"However we truly believe that Merlin, given the company's long term relationship with the town... is uniquely placed to make such a project work."