Heather Barnett murder: 'Face-to-face with mum's killer'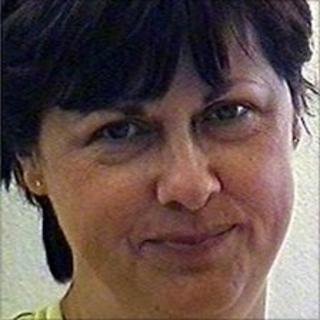 Caitlin Marsh was just 11 years old when she returned home from school to find the mutilated body of her mother in their Dorset home.
On that terrible day in 2002 Ms Marsh and her 14-year-old brother Terry made the horrific discovery in the bathroom of their Bournemouth flat.
The children of Heather Barnett were comforted by Italian neighbour Danilo Restivo. But unknown to both youngsters he was the "depraved" killer.
Italian national Restivo has been told he will never be released from prison for committing the "sadistic and calculated" murder.
In a victim impact statement read out to the court as Restivo was sentenced, Ms Marsh said life "changed forever" for her and her brother.
Describing the "horror" of finding her mother's body and being told by police that she was dead, she said: "It was at that moment that I felt as if my heart had been ripped out.
'Nightmares and flashbacks'
"I was in a state of complete and utter shock and it took months before I accepted the truth.
"I understood the words used but I felt that things like this don't happen to people like my mum."
Ms Marsh said her brother, now 23, became her "protector" but she was traumatised by what had happened.
"I used to have nightmares and flashbacks reminding me of the events of the 12 November," she continued.
"I also don't like going into bathrooms. I used to think that someone might be waiting for me. Now I just hold a fear of what's behind the bathroom door.
"It was several years before I accepted the help of a child psychologist to help me cope with what happened that day.
"My mum is no longer able to help me celebrate my successes and pull me through the disappointments.
"I will never get the chance again to tell her how much I love her and how much I now miss her.
Not a victim
"The only person that I can fully trust and rely upon now is Terry. My mum has been taken from me.
"The home I had shared with my mum was now tainted with someone else's violent actions.
"I have not been back there since and cannot face even going near our old front door. It reminds me too much of the horror that awaited my brother and I to find."
However Ms Marsh, now 19, said she had not allowed herself to become a "victim".
She sat in court to hear Restivo being told he would spend the rest of his life in jail.
"I feel a great anger at him. Without him she'd still be here," she continued.
"How could he intrude into our safe and happy family home and then take everything from us in such a horrific and callous way?"
"A particularly difficult day was when I first saw Danilo sat in the witness box, looking up into the public gallery.
"This was the first time I had come face-to-face with mum's killer. He showed no emotion and no remorse.
"I still do not have any explanation for why this happened to mum. What did she do wrong? Why was mum his victim?"