Danilo Restivo guilty of 'hair in hand' murder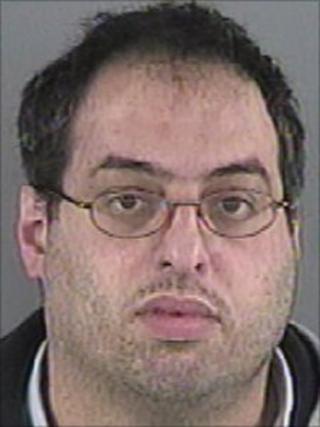 An Italian man has been found guilty of murdering a mother-of-two who was found with a clump of someone's hair in her hand at her Bournemouth home in 2002.
Danilo Restivo, 39, had denied killing Heather Barnett, 48, whose mutilated body was found by her children.
During the trial, Restivo was also linked to the murder of Elisa Claps, 16, who went missing in Italy in 1993.
Proceedings to extradite him to Italy are now expected to begin. Restivo will be sentenced on Thursday.
The Italian authorities have issued a European Arrest Warrant and it is expected that Restivo, who denies killing Miss Claps, will now be extradited to Italy to stand trial for her murder.
Winchester Crown Court heard that Restivo, of Chatsworth Road, Bournemouth, entered Ms Barnett's flat and bludgeoned her with a hammer before cutting her throat in November 2002.
'Comforted children'
Restivo, who admitted he had cut women's hair as he liked the touch and smell of it, put a clump of someone's hair in one of her hands and strands of her own hair under the other, the jury heard.
He later comforted her children after they found the body of their mother, the court heard.
Restivo told the jury he came to Bournemouth in 2002 to move in with his now wife whom he met in an internet chatroom.
He had called at Ms Barnett's flat a week before the murder when he asked her to make some curtains for his wife.
He told jurors he left a green towel as a colour match which he said explained why police - using forensic advances - found a minor trace of DNA on the towel which matched his profile.
Officers also found he had soaked his trainers in bleach when they searched his house.
It has also emerged that Ms Barnett raised concerns to her older sister Denise Le Voir about Restivo, who lived opposite her.
Speaking outside court Ms Le Voir said her sister "would have been horrified at the cruel and callous way Danilo Restivo designed her murder and mutilation, so that her children had to find her body on return from school".
Restivo's 'hallmark'
"Having heard the many alibis he worked out, carefully picked apart, it was obvious he was arrogant and thought only of himself," she added.
Det Supt Mark Cooper, senior investigating officer for Dorset Police, said he was "absolutely relieved" at the guilty verdict.
He said he had had "many sleepless nights" over the investigation and now hoped Ms Barnett's family could have some closure.
"This was truly an horrendous and distressing murder that took away a person that was very special to many, many people.
"It took us some time, and there were reasons for that, but we can actually hold our heads up and say to the family 'you can deal with this how you need to now'," he added.
The prosecution said the manner in which Ms Barnett was killed could be considered Restivo's "hallmark" and linked him to the case of Miss Claps.
Miss Claps went missing after meeting Restivo at the Church of Holy Trinity in Potenza after Mass on 12 September 1993.
Her body was found in the loft of the church last year.
The jury of five women and seven men heard evidence of the Italian murder but did not have to establish his guilt for it.