Dorset farmers frustrated at badger cull delay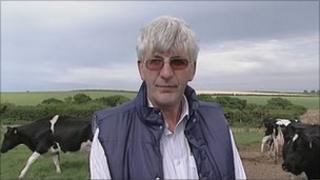 Numbers of cattle testing positive for bovine tuberculosis (TB) has risen by 30% in Dorset and some farmers are frustrated at delayed plans for a cull.
The figures released by the National Farmers Union (NFU) show Dorset is one of the worst-affected areas in England.
Animal welfare groups say there are other ways to deal with the issue.
In the three months to March, over 30% more Dorset cattle tested positive compared to the previous year.
The overall national figure showed a 4.4% increase.
The NFU said the figures showed "biosecurity" measures to keep cattle and feed away from wildlife such as badgers, which are known to transmit the disease, and increased testing, were not enough to tackle the problem.
Dorset Wildlife Trust (DWT) said a cull, which many farmers want, could actually lead to the disease being spread more widely rather than being eliminated.
Legal delay
The coalition government had said it would bring in a "science-led" policy on tackling TB in cattle, which would include culling, but a legal challenge to a cull in Wales has held up a final decision in England.
NFU chief farm policy adviser John Royle said the delay in bringing in the promised cull in disease hotspots was "completely frustrating".
James Cossins, dairy farmer from Tarrant Rawston near Blandford, said he is currently under restrictions because of inconclusive TB tests.
He said: "We're a closed herd, we haven't bought any cattle in, even after going clear. Then six months later we find we have inconclusive [results, so] we feel it must be the wildlife that have brought the disease into the farm.
"Or the disease may already have been on the farm and nothing has been done about it. [A vaccine] probably would be our long-term aim."
Simon Cripps, from DWT and also a cattle farmer, said: "The evidence suggests that if you take out badgers from an area other badgers will move in - some will be infected and some will not.
"So what you end up with is instead of discreet areas of infected badgers you end up with badgers infected across the whole of an area, so it becomes far worse.
"It's for scientific reasons we think a cull could make things worse."