Weymouth Olympic sailing observation tower exhibition opens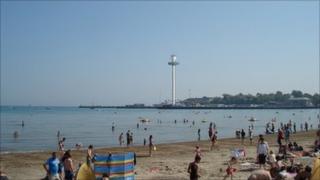 Plans for a £3m viewing tower at Weymouth seafront have gone on display at a public exhibition in Dorset.
The 173ft (53m) structure, if agreed, would open next July in time for the 2012 Olympic sailing events being hosted in the town and Portland.
But some residents have already voiced concerns, with one calling it a "blot on the landscape".
The public can see the plans at an exhibition at the Hotel Prince Regent until Saturday afternoon.
Merlin Entertainments, which has submitted a planning application to the council, said the tower would "provide an important new attraction for the town".
Up to 50 visitors at a time would be allowed to the top of the Festival Pier attraction, which would offer views of the seafront and harbour.
The council has received two letters of objection since the plans went online last week.
Local resident Andrew King said: "The proposal is completely out of keeping with the entire area and represents an enormous blot on the landscape.
"Parking and road infrastructure problems in this area are extreme, begging the question how extra traffic and parking for this attraction will be handled."
Merlin Entertainments, which is behind attractions including the London Eye, said it would listen to views expressed during the consultation.