Dorset heath fire reptile helpers sought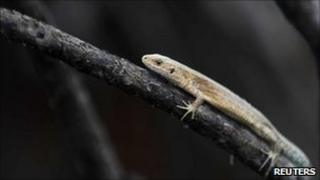 Volunteers are being asked to help rescue reptiles which survived Dorset's largest heath fire for 35 years.
Homes were evacuated as 200 firefighters tackled Thursday's blaze, which spread rapidly over one sq km (247 acres) of heath at Upton, Poole.
Dorset Wildlife Trust has asked people to visit its office near the heath to help save as many animals as possible.
Volunteers will get advice on rescuing reptiles from the charred land so the trust can move them to new habitats.
Simon Cripps, chief executive of the trust, said the fire had happened at the peak of the bird and reptile breeding season.
Police plea
He said: "Thousands of reptiles, including all six British species of reptile, have been killed along with countless invertebrates, representing the destruction of the entire eco-system."
He believed a third of the heath had been devastated, putting wildlife development back 25 years.
The fire is thought to have been started maliciously and police want to trace two men seen leaving the site.
Dorset Fire and Rescue Service said it was Dorset's biggest heath fire since 1976 and crews remained on the site damping down on Saturday.
Four people were treated after breathing in smoke and one firefighter was taken to hospital with exhaustion while another suffered minor burns to his arm.
The fire came within metres of many properties but was brought under control after about six hours and residents were allowed to return home.
The young pair police are trying to trace were seen walking toward the A35 footbridge leading to Heights Road in Upton on Thursday.
Det Insp Jim Beashel, from Dorset Police, said: "I believe that those responsible are likely to have told friends or family about their involvement, and would urge anyone with information to contact us urgently."