Sick cruise passenger airlifted to hospital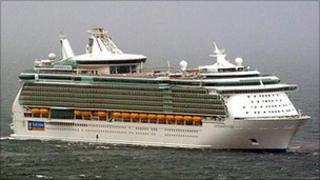 A critically ill and woman has been airlifted from a cruise ship off the Dorset coast.
Portland Coastguard was alerted by the captain of the Independence of the Seas on Saturday night.
They sent their helicopter to intercept the cruise ship approximately 23 miles (37km) south of Portland Bill.
The helicopter was too heavy for the ship's landing pad so the passenger, in her wheelchair, had to be lifted up into the aircraft hovering above.
She was flown with her husband to Dorset County Hospital in Dorchester.
Cleared the decks
A Maritime and Coastguard Agency spokeswoman said the passenger had very little mobility and was in a critical condition in need of urgent attention.
She said: "Additional complications were that the casualty and wheelchair were too heavy for the helicopter winch capability, and the ship's helicopter landing pad too light for the six tonne all-up weight of the helicopter.
"The ship's crew had cleared the decks of benches and other loose items which might have endangered the helicopter.
"In a supreme example of skill, the coastguard helicopter pilot touched the wheels of the aircraft on to the moving deck of the Independence of the Seas, keeping the rotors powered-up so that no weight was taken by the relatively fragile landing pad."
The Independence of the Seas is one of the world's largest cruise ships.
It had only just left its home port of Southampton for a two-week cruise around the Mediterranean when the woman was taken ill.