Stag beetle sightings 'on the increase' in Dorset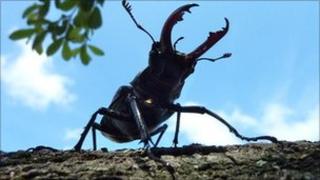 The unusually warm spring could have led to increased sightings of the elusive stag beetle, according to Dorset Wildlife Trust (DWT).
DWT's Steve Halliwell said: "We've seen an extraordinary number, more than we'd expect for a whole summer."
At 7.5cm (3in), the male stag beetle is Britain's largest beetle and can occasionally be seen on warm summer evenings.
Adult beetles usually emerge from rest in late May in order to mate.
Met Office figures show the UK experienced its warmest April since records began, which DWT staff and volunteers have suggested caused the beetle to emerge nearly a month earlier than usual.
Beetle 'hotspot'
However, Mr Halliwell also suggested that previous years' weather conditions could have triggered a change in the beetles' growth cycle.
He said he saw 12 males in flight, in his garden in Bournemouth, "a phenomenon I have never witnessed before".
Along with Ipswich and south London, Bournemouth is known as one of the UK's hotspots for stag beetles, because the species prefer sandy, well-drained soil.
The People's Trust for Endangered Species, which has conducted studies into the stag beetle, says it will be analysing this summer's beetle population in Dorset and the other hotspots.
Nida Alfulaij, of the trust, said: "Small changes in the arrival of spring could have quite a big impact, especially if it followed by a nasty damp spell when the beetles can't get out and about to mate."
The stag beetle is a protected species and has been in decline since the 1940s because of the loss of habitat - areas of dead wood where they lay their eggs.
DWT has been encouraging gardeners to be less tidy and leave out old logs in a bid to help create more habitats for the beetles.