New marine kayak trail along Jurassic Coast in Studland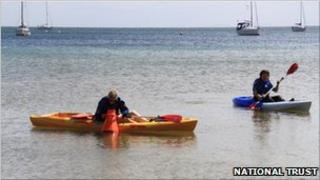 Part of Dorset's Jurassic Coast can now be explored from the sea on a specially-produced kayak trail.
The National Trust, Dorset Wildlife Trust and Studland Sea School designed the self-guided trail to allow kayakers to discover the area's marine wildlife.
The National Trust's Emma Wright said kayaking was a "huge growth area" in attracting visitors.
It said the sheltered waters of Studland Bay made it suitable for both novice and experienced paddlers.
The trail takes an hour to complete with the aid of a waterproof guide and covers about one nautical mile.
'Ideal way'
The organisations promise the route will provide kayakers with "an easily accessible wildlife experience" as well as views to the famous chalk stacks of Old Harry and across the Solent to the Isle of Wight.
Dorset Wildlife Trust, which recently promoted a snorkel trail at Kimmeridge, west of Studland, said it was a chance to explore the area's wildlife, which includes rare seahorses, spider crabs, egrets and terns.
Marine awareness officer Julie Hatcher said: "The stunning chalk cliffs host a wealth of seabirds while the seabed's rich seagrass meadows hide a myriad of creatures, including both types of British seahorse.
"Kayaking is the ideal way to watch wildlife, especially on clear-water days when a window opens on to the underwater world."