Weymouth Olympic sailing observation tower plans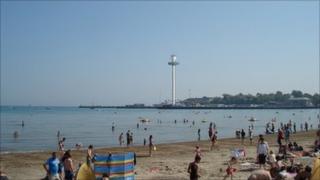 Plans have been unveiled to build a £3m viewing tower at Weymouth seafront.
The 173ft (53m) structure, if approved, would open next July in time for the 2012 Olympic sailing events, which are being jointly hosted in the Dorset town and nearby Portland.
Up to 50 visitors at a time would be allowed to the top of the Festival Pier attraction, which would offer views of the seafront and harbour.
Merlin Entertainments has submitted a planning application to the council.
The application, which was lodged on Tuesday, is expected to be put on the authority's website by the end of the week.
A public consultation to begin next week will include more details of the tower, which would become part of the Festival Village Olympic development.
The company is behind attractions including the London Eye.
James Burleigh, from Merlin Entertainments, said: "We are very excited by the possibility of the Festival Pier observation project.
"Weymouth undoubtedly will get a great deal of attention and a huge influx of additional visitors around the Olympics but we believe that this will generate much longer term interest in the town and what it has to offer.
"The new observation tower would provide an important new attraction for the town."