Bournemouth kidney donor Jenny Dale sets bike challenge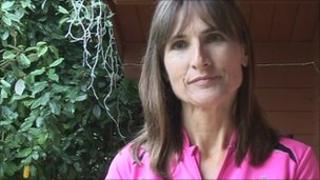 A mother-of-two from Bournemouth is training for a charity cycle ride to Paris 12 weeks after donating a kidney to a complete stranger.
Jenny Dale said the moment she was told her kidney had been transplanted into a young man was "one of the most amazing things I've heard in my life".
She is cycling from London to the French capital to raise money for organ transplant charity Transplant Links.
There are currently about 8,000 people waiting for an organ transplant.
While most transplant organs are taken from recently deceased people, so-called "altruistic kidney donations" - donations to someone who is neither a friend or relative, were legalised in 2006.
'Really supportive'
Ms Dale, a Dorset Police scenes-of-crime officer, said she decided to voluntarily donate a kidney after reading about the shortage of transplant organs on the BBC News website.
She said: "As soon as I knew I was healthy enough to give away one of my kidneys, I couldn't think of a good enough reason not to do it."
There was a year of physical and psychological testing to go through before the operation could go ahead. She admitted her family had their concerns but were "really supportive".
Only about 90 people have gone through the procedure in the UK.
Her sister, Wendy Powell said: "Initially I was really unsure, it such seems a huge thing to do - major surgery for someone you don't know.
"Once I heard what she had to say and how much it could transform someone's life, I was 100% behind her," she added.
The operation, carried out at Southmead Hospital in Bristol, left her with a 9in (23cm) scar and Ms Dale had to stay in hospital for nine days.
Within a few hours of the operation she was told the kidney had been successfully transplanted into a man in his 20s.
Only weeks later, she decided to take part in the sponsored 300-mile (480km) cycle ride to raise money for the charity.
It provides help for people in developing countries who are in need of transplants.
Ms Dale has already started light training.
"I'm amazed at how well I'm feeling and how well my body is responding," she said.