Murder accused Danilo Restivo 'cut girls' hair on bus'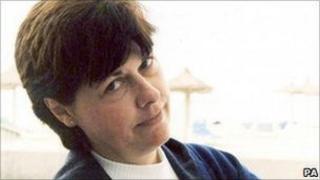 The man accused of mutilating a woman, who was found with someone else's hair in her hand, cut the hair of teenage girls in the area, a jury has heard.
Heather Barnett, 48, was found dead at her Bournemouth flat in 2002.
The prosecution say Danilo Restivo, who denies murder, has a hair fetish and targeted females on buses in the area.
Holly Stroud, who was 17 at the time, told the court Mr Restivo cut her hair while she travelled on a bus in the town in 2003.
She told jurors she had got on the bus just before 0800 GMT on 13 March and later felt someone pulling on her ponytail.
"I first thought [my hair had] got caught on the bus seat, so turned around and was expecting a child from my school teasing me, what I saw shocked me because it was a grown man," she said.
'Sticky substance'
She told the court the man had later got off the bus and she had continued to college.
She later noticed a sticky substance in her hair with a menthol smell and when she washed her hair at college she noticed strands falling into the sink and realised her hair had been cut, jurors heard.
In 2004 she was asked to look at a number of photographs by police and was able to identify the man who had cut her hair, jurors heard.
When asked was it the defendant Mr Restivo, she replied: "Yes".
Katie McGoldrick, who was 15 or 16 at the time, also gave evidence to Winchester Crown Court.
She said some time between September 2002 and May 2003 she had felt her hair being tugged while travelling on a bus in Bournemouth.
She also noticed a chunk of hair missing and picked out Mr Restivo in police photographs in 2004, the court heard.
Mr Restivo, who lived opposite Ms Barnett, is alleged to have entered the flat and bludgeoned her with a hammer before cutting her throat.
The prosecution says Mr Restivo has a hair fetish and left a clump of someone else's hair in Ms Barnett's right hand and some of her hair under her left hand.
Prosecutors say the manner in which Ms Barnett was murdered can be considered Mr Restivo's "hallmark" and have linked the killing to the murder of a teenager, 16-year-old Elisa Claps, in Potenza, Italy, in 1993.
The trial continues.