Kimmeridge Bay volunteers sought to help sea life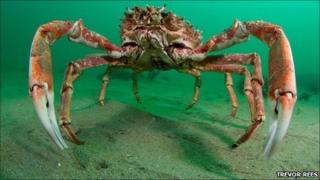 Young volunteers are being recruited to take part in underwater studies to help marine wildlife along the Dorset coast.
The Dorset Wildlife Trust is asking 13 to 25 year olds to join the The K Team to survey Kimmeridge Bay for new and known marine species.
The trust's survey aims to gain "vital information" about the UK's seas.
The volunteers will train for an official snorkelling qualification, designed to improve skills and confidence underwater.
Once qualified, the young volunteers will meet on Wednesday evenings during the summer to carry out surveys along the Kimmeridge Snorkel Trail.
'Great opportunity'
Marc Smith, Dorset Wildlife Trust's marine warden, said: "This is a great opportunity for young people to get in the water and get involved with marine conservation.
"Kimmeridge Bay is one of the best places in the UK to snorkel and the amount of life that can be seen there is breathtaking."
Mr Smith added that while snorkelling at Kimmeridge volunteers were likely to see magic seaweed, spider crabs, wrasse and snakelocks anemones.
The PADI (Professional Association of Diving Instructors) Discover Snorkelling/Skin Diver training course takes place on 3 June at Queen Elizabeth Leisure Centre, Wimborne, between 1830 and 2130 BST.