'Hair-in-hand' murder trial: Woman 'recognised accused'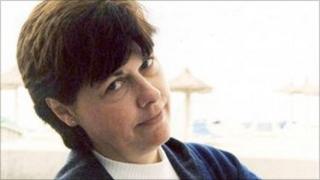 A woman has told a jury how she called BBC1's Crimewatch show after it aired an appeal over the death of a mother whose children found her body.
Claire George saw the TV appeal in 2006, nearly four years after Heather Barnett, 48, was found mutilated in her flat in Bournemouth, Dorset, in 2002.
She told Winchester Crown Court she believed a man police wanted to trace from CCTV footage was Danilo Restivo.
Mr Restivo, 39, of Chatsworth Road, Bournemouth, denies murder.
Ms Barnett's children, Terry, then 14, and Caitlin, then 11, found their mother's mutilated body in the bathroom of their ground-floor flat in Capstone Road on 12 November 2002, with a lock of someone else's hair in her hand.
'Hair fetish'
Mr Restivo, who lived opposite the family, is alleged to have entered the flat and bludgeoned Ms Barnett, a seamstress, with a hammer before cutting her throat.
The prosecution says Mr Restivo has a hair fetish and left a clump of someone else's hair in Ms Barnett's right hand and some of her own underneath her left hand.
Prosecutors, who say the manner in which Ms Barnett was murdered can be considered Mr Restivo's "hallmark", have linked the killing to the murder of a teenager, 16-year-old Elisa Claps, in Potenza, Italy, in 1993.
They say Mr Restivo, an Italian, was also responsible for cutting hair from 15 women or girls while travelling by bus in the Bournemouth area.
Ms George told the court she worked in a pharmacy near where Ms Barnett and Mr Restivo were neighbours, and that they were both customers.
She told the court she watched Crimewatch on 12 September 2006 because she knew Ms Barnett's death was going to feature.
'Recognised posture'
Ms George was asked by the prosecution what she thought when she saw CCTV footage on the programme of a man leaving Captsone Road at 0924 on the day of Ms Barnett's death.
She said she thought it "looks like someone I know, Danilo Restivo".
She told the court she recognised a hat he often wore as well as his posture: "If you see someone enough times you can recognise the way they move even without a close-up of the face, I can recognise somebody."
When asked how confident she was that it was Danilo Restivo, she replied that she was confident enough to call the programme the same evening.
The defence put it to Ms George that she had been influenced by earlier press coverage of the case, which had mentioned Mr Restivo had been arrested.
"I don't think so," she said.
She was asked if there were any other suspects she had heard about in relation to the case.
"All I've done is identified the CCTV," she replied.
Jurors have previously heard from the prosecution that Mr Restivo once lived in Potenza, where teenager Miss Claps disappeared in 1993.
The prosecution says Mr Restivo had arranged to meet Miss Claps at the Most Holy Trinity Church on 12 September that year, but she was never seen again.
Her body was discovered in the loft of the church last year.
The trial continues.