Dozens of cars damaged by vandals in Weymouth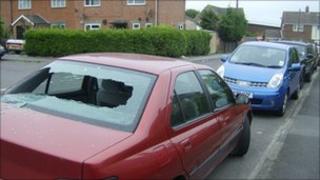 More than 40 parked cars have been damaged in a west Dorset town overnight.
A group of three or four teenagers are thought to have been behind the vandalism in the Littlemoor area of Weymouth.
Most vehicles had their windscreens smashed by the vandals who are believed to have targeted vehicles during a 30-minute period at about midnight.
Police are trying to trace the group who were dressed on dark hooded tops.
Insp Bob Jacobs said many officers were sent to the area overnight.
He said: "The damage runs into thousands [of pounds].
"These vehicles don't belong to a huge corporation able to absorb the cost of repairs, they belong to decent hardworking families in Weymouth who frankly can ill afford at the moment the additional cost of repairing their vehicles."