Bournemouth, Weymouth, Portland on Olympic torch relay route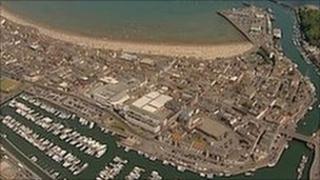 The Olympic torch will visit Bournemouth, Weymouth and Portland on its 70-day tour around the UK in the lead-up to the 2012 Games.
The London Organising Committee of the Olympic Games (Locog) has announced all overnight and island stops.
On Wednesday 11 July next year the torch will travel from Salisbury to Weymouth and Portland, which are hosting the Games' sailing events.
The torch will arrive in Bournemouth on 13 July 2012.
Bournemouth and Weymouth and Portland councils will host evening "celebration" events at the end of each day for the public.
'Breathtaking style'
Councillor Peter Charon, leader of Bournemouth Borough Council, said although he did not yet know the costs of hosting the event it was a "once-in-a-lifetime" opportunity for both residents and tourists.
"We are delighted and honoured," he added.
"There are over 163,000 reasons why the Olympic Torch should come to Bournemouth - our residents."
"You can be certain that the Olympic Torch Relay will be greeted unreservedly by the people of Bournemouth, and in breathtaking style."
The Olympic flame is set to arrive in the UK from Greece on 18 May 2012.
London 2012 chairman Lord Coe has revealed it will leave Land's End, Cornwall, the following morning before travelling 8,000 miles (12,874 km) around the UK, taking in more than 70 stops.
Organisers say the route has been planned to ensure the torch comes within a one-hour journey for 95% of the population.
A nomination process will be used to pick 8,000 torch bearers.
The lunchtime stops on the tour will be announced later this year and full details of the route will be revealed in 2012.