Dorset volunteer marine group to launch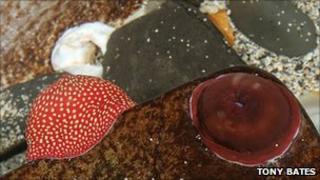 A new group is being started for volunteers in Dorset to help investigate the seashore.
Dorset Wildlife Trust is forming the Weymouth and Portland Marine Volunteers group as part of its three year Welly Zone project, launched in March.
The project aims to study shallow water habitats and the species that rely on them.
The study will look between the high water mark and shallows accessible by foot.
Julie Hatcher, marine awareness officer at Dorset Wildlife Trust, said: "The beach and the shallow water make up a very important habitat for both marine and terrestrial creatures."
'Conservation zones'
The trust says wildlife on the seashore ranges from birds and mammals on the shoreline to fish, crabs and anemones in the shallows.
Rocky beaches, such as Kimmeridge and Osmington, have been found to shelter clingfish, porcelain crabs, brittlestars, cushion stars, seasquirts and strawberry anemones.
Ms Hatcher added: "Volunteers can play a big part in discovering just what is living on our beaches and their help has already contributed to the consideration of the intertidal area from Lulworth to Swanage as one of the possible new marine conservation zones in the South West."
The initiative is one of a series of Wild About Weymouth and Portland events.
Wild About Weymouth and Portland is a partnership project funded by the Big Lottery Fund through Natural England's Access to Nature programme.
It also involves the RSPB, Dorset Countryside and Weymouth and Portland Borough Council.