First Abbotsbury Swannery cygnet arrives early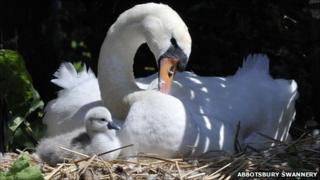 The first cygnet of the year has arrived at Abbotsbury Swannery in Dorset nearly two weeks earlier than usual, according to the head swanherd.
The male cygnet has been named Sunny by staff at the swannery, based on Chesil Beach at Abbotsbury.
More than 1,000 cygnets will hatch over the next six weeks at the swannery.
There are currently about 900 swans and 150 nests at the site, which is the world's only managed colony of wild mute swans.
Dave Wheeler, the head swanherd, said: "The high temperatures in March encouraged the swans to nest very early."
The cygnets usually hatch in the second or third week in May - this year is the second earliest date ever recorded since the swannery began 600 years ago.
Sign of summer
Local tradition has it that the Benedictine monks who owned the swannery between 1000 AD and the 1540s believed the first cygnet signalled the first day of summer.
Sunny's parents, Philip and Annabelle, had been nesting together for five years however Philip died last week and now Annabelle has three cygnets to look after on her own with four eggs yet to hatch.
The staff have put her and her young in a separate enclosure to ensure she feels secure.
"Annabelle is coping really well without her partner Philip, because she's such an experienced mother and she looks very happy with her young," explained Mr Wheeler.
Abbotsbury Swannery has up to 1,000 swans in total - all free flying and not kept in cages.
Female swans, called pens, lay an average of six eggs each year, up to a maximum of 13 (the record for Abbotsbury is 12).
The cygnets will hatch over the next six weeks.