Somme memorial to Dorset World War I soldiers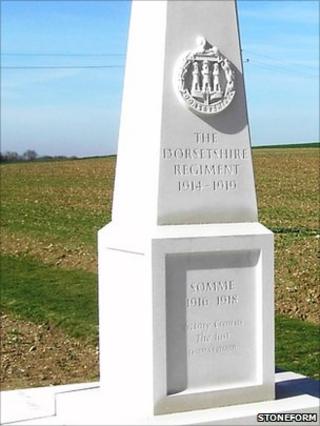 Dorset soldiers who fought at the Battle of the Somme in 1916 are being remembered at a new memorial in France.
Up to now there have been none dedicated to The Dorsetshire Regiment, 350 of whom died on the first day of the World War I battle.
An appeal raised more than £23,000 for the 8ft (2.4m) Portland Stone obelisk.
The memorial has been placed near the French village of Authuille, where the regiment crossed the front line in the battle.
By the end of 1 July 1916, 60,000 British soldiers had been killed or injured.
Volunteers, supported by the Dorset and South Wilts Branch Western Front Association, set out to correct the "historic anomaly" that there was no memorial specifically for the Dorset regiment, which was known as "the Dorsets".
Western Front Association's Charles Cooper said: "People visiting the Somme want a focus where their grandfathers or great-grandfathers served."
He added: "We had a marvellous response from all over England from people whose family members had served with the Dorsets in World War I."
The memorial was carved by sculptors Zoe Cull and Alex Evans at their workshop at Bockhampton, near Dorchester.
It bears the regimental and county crests as well as a quotation from Thomas Hardy: "Victory crowns the just."
Wartime sacrifice
In all, more than 4,500 of Dorset's young men were killed in World War I; another 16,000 survived, many with terrible injuries.
The Dorsets were merged with the Devonshire Regiment in 1958 and then absorbed into The Rifles in 2007.
Alan Brown from Wool, whose father served with the Dorsets in Mesopotamia during World War I, said: "It's very important for the families of those that died and served and gave a portion of their young lives - we've all benefited from the sacrifices they made."
About 150 people are expected to attend a service on 8 May when the memorial will be dedicated to the regiment's soldiers who died at the Somme and elsewhere during World War I.