Extra steward courses in Dorset ahead of 2012 Olympics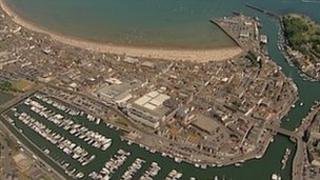 Extra courses have been organised for people interested in becoming event stewards ahead of the 2012 Olympics.
Weymouth and Portland will host the sailing events during the Games with an army of volunteers needed to help.
Due to local demand, two extra free two-day sessions will be run at Weymouth Football Club's Bob Lucas Stadium on 19 and 26 May.
The sessions are not directly linked to the Games but could help those wanting to become stewards at Olympic events.
The training, organised by Volunteer Centre Dorset, will cover a range of subjects from controlling movement of people to managing crowd problems.
Successful candidates will be put on a register and could be given the chance to help support the hosting of events in the county.
The sessions are only open to people aged over 18 who are not in full-time education.
A £30 booking fee is required to secure a place which will be refunded on attendance.
Amended 20 May: Story has been amended to make it clear that the courses are not directly linked to the 2012 Olympics, but could help people wanting to become stewards at the Games.