Protesters in Dorset march over councils' £15m plans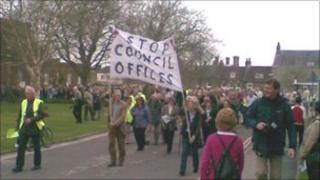 Hundreds of campaigners marched through Dorchester in protest against plans to spend £15m on new council offices and a library in the town centre.
Conservative-led West Dorset District Council plans to build a £10m headquarters and Dorset County Council hopes to attach a new £5m library.
The district council says the new offices, in Charles Street, will save about £200,000 a year in running costs.
Protesters are angry at the amount of taxpayers' money that will be spent.
'Extremely angry'
About 200 protesters passed the County Hall and the existing district council offices in High West Street, before they gathered at the junction of Charles Street and South Walks Road.
Protest organiser and Dorchester town crier Alistair Chisholm said: "People are puzzled, indeed many are extremely angry that £15m of public money is being spent in this way, at this time, on that place.
"They don't feel in the slightest way they have been consulted on a huge amount of money at a time when we know services are being cut and jobs are being lost."
Mr Chisholm argued the greatest need in West Dorset was for affordable housing.
'No alternative suggestions'
West Dorset District Council leader Councillor Robert Gould said the move was part of an efficiency review to meet cuts of 25% in government funding.
"We are making no cuts to services, no cuts to the support we give to a range of voluntary organisations and we have a very low council tax and that is the reason why we are making savings elsewhere," he said.
"It is imperative we make these saving and the protesters make no alternative suggestions."
Mr Gould pointed out the new council headquarters would be half the size of the existing building and the new library, which would be shared by both the district and county councils, would free up other council office blocks that could be used more efficiently.
West Dorset District Council went into partnership with Weymouth and Portland Borough Council - sharing a chief executive and staff - in a move estimated to save about £8.5m over the next five years.