Boscombe surf reef closed over safety concerns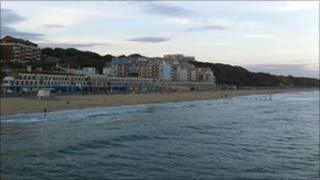 Europe's first artificial surf reef off the Dorset coast has been closed due to safety concerns over "substantial changes" to the structure's shape.
An investigation has been launched to find out what happened to the £3.2m underwater feature, in Boscombe, Bournemouth, after a recent inspection.
The reef is also to undergo refinement works by creator ASR Ltd after a report found it needed a number of tweaks.
Bournemouth council said it was "erring on the side of caution".
The reef, which ran over budget and suffered a series of delays, was created to enhance waves using 55 giant sand-filled bags which are 225m (740ft) out at sea.
It opened in November 2009 but has been criticised for not working properly.
Local traders have argued it has added to the regeneration of the once-rundown town of Boscombe.
Extreme sport
The council said following a scheduled six-monthly inspection, it was advising people not to use the reef while it underwent further work and maintenance.
It said a routine inspection carried out on 23 March showed that "substantial changes" had altered the profile of the reef structure which could alter current flows over it.
Tony Williams, council executive director, said: "We're aware that significant changes have altered the structure of the reef and we have commissioned further investigation to be carried out to provide more detail.
"Until we know further information we are erring on the side of caution and advising people not to use the reef.
"Given that surfing is an extreme sport and always includes an element of risk, health and safety surrounding the surf reef project has been paramount from the start."
New Zealand-based ASR Ltd confirmed it will return to carry out its own assessment.
The council added it was "optimistic" the issues could be addressed and the planned refinement works implemented.
Nick Behunin, managing director, said: "We have only recently received the information from the preliminary inspection and we are currently evaluating it."
The council has withheld £150,000 from ASR after a specialist report found the reef had not achieved all of its objectives.
It will pay £55,000 when work is finished and a further £95,000 if the improvements are successful.
ASR has denied the reef failed and said it was only one of the criteria, the wave lengths, which it had not met the requirements.