First suburban average speed cameras to remain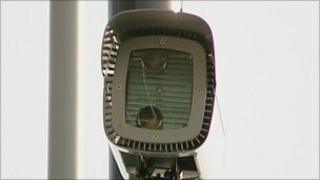 The UK's first average speed cameras in a residential area are to be kept following a trial in Poole, Dorset.
The cameras, which measure speed over a stretch of road, were turned on outside Springdale First school in September.
Since they were activated the average of 64 speeding drivers an hour on the 30mph road has dropped to 16 an hour.
No motorists have been prosecuted as the system is yet to be given Home Office approval but they will remain active as a deterrent.
School support
The school was chosen for the six-month trial by nearby engineering firm Siemens, which is running the system and collating all the information.
Signs were also put up warning drivers of the presence of the cameras.
Siemens said it hoped the system will be approved soon meaning speeding drivers will be prosecuted.
Children at the school have also designed road signs to accompany the new cameras.
Head teacher Ruth Leach said: "What I would like to happen is that everybody carries on driving slowly.
"I certainly think the signage should be there and as the cameras have been effective it would seem appropriate for them to stay."