Abbotsbury swans get 150 hand-built nests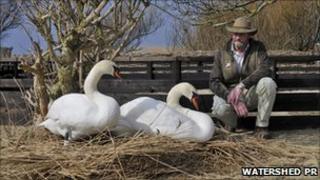 One hundred and fifty nests will be hand-built at Abbotsbury Swannery as part of the annual nesting season.
Head swanherd Dave Wheeler will create the nests using common reed from the Fleet Lagoon.
Every year about 300 swans gather on Chesil Beach at Abbotsbury Swannery, the world's only managed colony of wild mute swans, to lay their eggs.
Mr Wheeler said: "They like to nest on the pebbles next to the water but there are no nesting materials nearby."
For the past 600 years generations of swanherds have been supplying bundles of reed and shaping them into triangular piles for the swans.
'Sign of spring'
Mr Wheeler, who has worked at the swannery for 30 years, said: "This is an exciting and busy time of year.
"Building the nests and seeing the adult swans preparing for their young is magical and a definite sign of spring is finally here.
"Each pair nests in the same spot every year, so we know where to build.
"They can be quite impatient - they watch me building and often climb on to the reed piles before I've finished."
Two eggs have already been laid at the swannery and hatching starts in mid May, lasting about six weeks.
Local tradition has it that the Benedictine Monks who owned the swannery between 1000 AD and the 1540s believed the first cygnet signalled the first day of summer.
Abbotsbury Swannery has up to 1,000 swans in total - all free flying and not kept in cages.