Work to lower height of Dorset's Imax building starts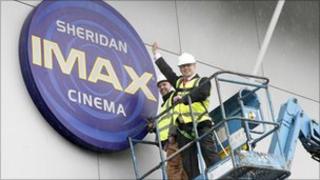 Work has started to halve the height of a controversial Bournemouth building which blocks sea views.
A cherry-picker moved in earlier to help remove the Imax cinema sign from the back of the Waterfront building.
The rear of the building will be reduced in height from 43ft (13m) to 18ft (5.5m) while the front will be reduced from 62ft (19m) to 36ft (11m).
A rooftop terrace will also be created as part of the project due to be completed by the end of the year.
Leader of the council Peter Charon said: "We've waited years to have the opportunity to reduce the impact of this building on the seafront.
"I am delighted that we can now deliver on our ambitions and our promise to residents to improve the sea views."
He also said the council would be commissioning public artwork to "brighten up" the back of the building.
The work is part of a wider plan to develop the site into a suitable all-weather leisure and/or cultural attraction by the summer of 2012.
Interested parties are being sought by the council to come forward with proposals.
The Waterfront currently houses restaurants and the former Imax cinema.
Leases, on individual or multiple units within the building, are available for up to 10 years, or possibly longer.