Daffodil-picking girls warned by police in Poole park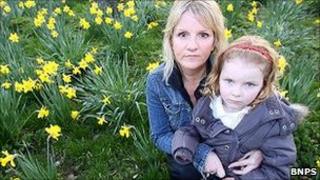 A couple warned by police after their children picked daffodils from a Dorset park have said they did not know their daughters were committing a crime.
Jane Errington and Marc Marengo were with their children in Whitecliffe Park, Poole, when officers were called.
Ms Errington said the children were "upset" following the events on Sunday.
Councillor Peter Adams, whose home overlooks the park, said the daffodils were for "the people of Poole" and a "proper response" had been taken.
'Daisy chains'
The police were called by a family member of Conservative councillor Mr Adams, who claimed the children had picked about 80 bunches of flowers.
Ms Errington said the children, 10-year-old India, Olivia, six, and Sienna, four, had been enjoying a day out in the park.
She said police had been watching the family for about 20 minutes before approaching them.
"Had we known it was a criminal offence then we would not have let them do it," she said.
"We have all picked up flowers and made daisy chains and we thought that's what they were doing.
"They weren't ripping up bunches and bunches, they are two little girls with tiny little hands."
Ms Errington told the BBC said the girls had picked about 20 daffodils from the council-owned park, rather than the 80 bunches claimed.
"We just explained that it was wrong what they were doing, we wouldn't do it in the future and everything was ok.
"We felt if he (Councillor Adams) had approached us first it would have been done and dusted."
'Public pleasure'
Mr Adams said: "I frankly think it was a proper response.
"Poole is a beautiful place, we have three green-flag parks and these flowers are for the pleasure of the public.
"If everyone started to pick them we wouldn't have them for anyone else to see.
"If you want to pick flowers you grow them in your own garden."
A Dorset police spokesman said officers had received a report that council property was being damaged and it was ongoing.
"We were told a significant amount of daffodils were being pulled out and thrown around.
"Two police constables attended, spoke to the mother of the children and explained that as the flowers were laid by the council for the enjoyment of all, that people were not allowed to pick them.
"The officers had to advise her that by law it was criminal damage, in case they were not aware."