Olympic 2012 website launched for Dorset residents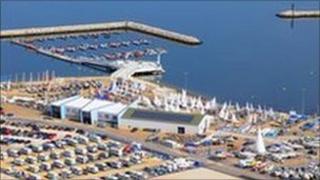 People living close to the 2012 Olympic sailing events in Dorset are being encouraged to get involved online.
Up to 50,000 visitors are expected to travel to Weymouth and Portland as part of the Games.
Civic chiefs across the county have launched a Dorset 2012 website offering advice on volunteering and business opportunities.
The Weymouth and Portland National Sailing Academy at Osprey Quay will host up to 400 international athletes.
Events such as the Finn, Laser and Star classes will run from 29 July to 11 August 2012, with ticket prices ranging from £35 to £55.
Sue Hyde, chairman of the Dorset 2012 communications group, said: "As 2012 gets closer there is a real demand for information about our preparations and how people can get involved.
"I hope the site will help harness this enthusiasm and allow everyone to take advantage of all the opportunities the Games are bringing."
Since Weymouth and Portland was announced as the host borough in 2005 the area has enjoyed increased visitor numbers and investment.