More of Dorset Roman road to be unearthed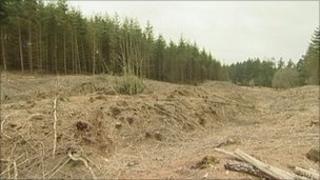 Conservationists are hoping to unearth more of a Roman road which has been uncovered in Dorset.
Hundreds of trees have already been removed to reveal half a mile of 1,900-year-old road in Puddletown Forest.
The Forestry Commission, which owns the land, knew of the road's existence but it had remained buried until now.
It is believed to be part of the Ackling Dyke Roman Road, built in the early first century, linking Old Sarum, now Salisbury, and Exeter's Roman fort.
The clearance work was carried out by the Forestry Commission in partnership with English Heritage.
The 85ft-wide (26m) road, which consists of a raised plateau flanked by two ditches, would have carried troops, supplies, slaves and livestock.
The cobbled "street" would have been used for troop movements while the outer droving roads would have been used for animals.
Laurence Degoul, the Forestry Commission's Wareham-based forester, said: "It is quite emotional because if you think about it - you can walk on the top of this road and you can think that maybe... gladiators were just walking up and down this road."